I make this pretty much every holiday and anytime I make dinner for guests.
I recently made it for my first cook on my new homemade smoker and was asked to share so here goes.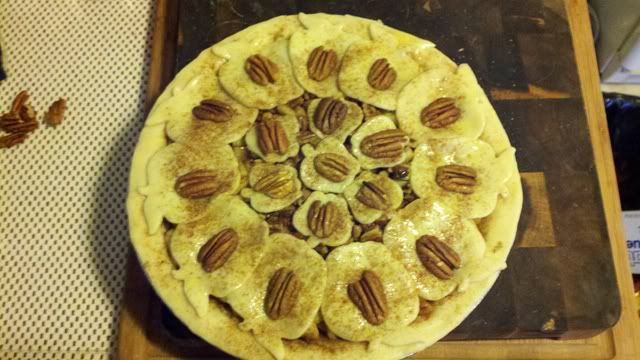 Apple Pecan or Walnut Pie


Ingredients:

1 package of 2 Pilsbury rollout piecrusts
Cookie cutter (I use an apple shape, sometimes a heart)

Filling:
4 cups chopped or thinly sliced apples
2 tablespoons lemon juice
3/4 cup brown sugar
1/4 cup honey
Caramel topping
2 tsp apple pie spice / cinnamon / nutmeg (your choice)

Bottom of pie crust:
4 tablespoons softened butter
3 tablespoons all purpose flour
1/2 cup chopped pecans or walnuts
3 tablespoons brown sugar

Topper:
2 tablespoons melted butter
1 teaspoon cinnamon
1 teaspoon sugar

Instructions:
Preheat oven to 375. Roll out pie crust place in piepan.
mix bottom of pie crust ingredients together and spread
over bottom of crust and drizzle caramel. Next in a large bowl toss apples, spice and lemon juice, spread evenly in pie shell, then sift brown sugar over apples. Sprinkle with cinnamon / sugaar mix. Drizzle honey over apples. Next either cookie cut
shapes and arrange on top, or cut 1 inch strips and basket
weave the top crust, then combine cinnamon and sugar for
topper, then brush melted butter over top of crust and
sprinkle with sugar and cinnamon mix. Top with walnut or
pecan halves as decoration if desired. Bake for 50-55 mins or until golden brown on top. Cool on wire rack, serve warm. Enjoy.
As an added bonus top with bourbon pecan sauce.

Bourbon Pecan Sauce
Ingredients
1 cup half & half or whipping cream
2 cup granulated sugar
2 cup water
2 cup brown sugar
Pinch of salt
2 cup bourbon
2 tsp vanilla
1 cup pecans

Scald the cream and set aside. Combine water and sugar,
and boil until the mixture turns a golden brown.
Add brown sugar and salt, pour in cream and bourbon,
and simmer until blended. Add vanilla and pecans.

This recipe makes alot.
It is great over vanilla ice cream, over baked apples,
even goes great over grilled chicken, salmon, tilapia,
and mahi mahi, pretty much any white meat.