I picked up on sale a large brisket a couple of days ago and decided, with the early spring weather upon us (sunny & mid-80's here today), it'd be a great time to fire up the smoker for a good, long smoke.

A

12-pound bruiser

; and not too bad a shape. Sale for $1.69 a pound,
I was tempted to stock up...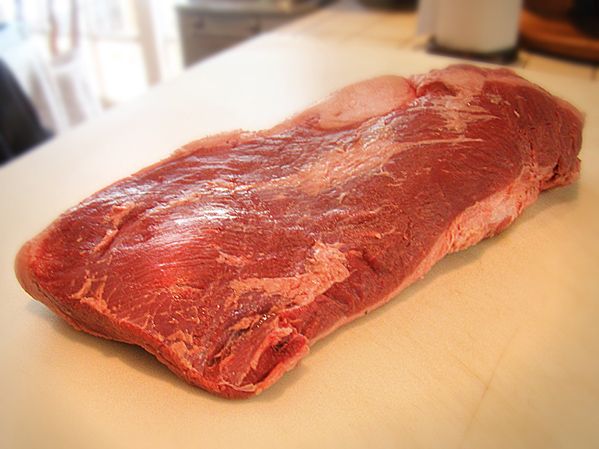 After some trimming (about 2 pounds of fat), time for some

RUB

.
I keep a large jar of mixed rub I use for ribs, brisket, burgers, etc. in a large air-tight jar. It's a fairly utilitarian rub mix—

paprika, black pepper, ancho chile, cumin, salt, garlic powder, brown sugar

—and on this brisket I'm adding about 2 tablespoons of fresh-ground dark roast coffee = a coffee/chile rub.



I put a nice coat of canola oil onto the brisket, and gave it a generous rubdown with the spice mix.


Injection Therapy

: I injected into the brisket some good beef broth (about 1.5 cups total) using a stainless injector.





Prep the Smoker

: I had to remove all my sausage-hanging paraphernalia from the smoker and did some rack-readjusting to accommodate the brisket, a drip pan, and a rack to hold the Amazen tube smoker. Preheated the unit, maverick dual-probes ready to watch both smoker and brisket temp, and so I inserted the brisket. I'm using the

"Pitmaster's Blend"

of pellets for this smoke.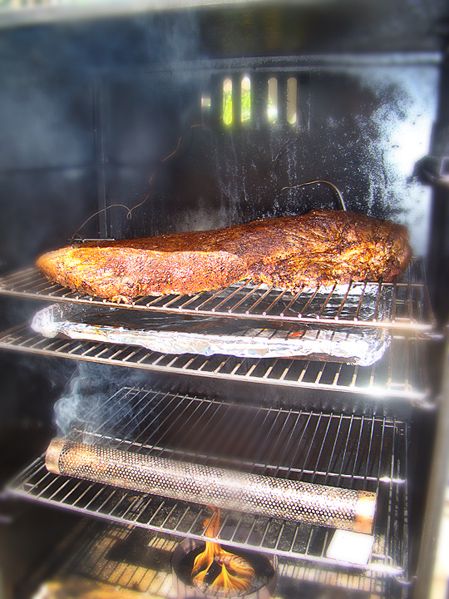 After about 2.5 hours at 225-235°F & good smoke application, I wrapped the brisket tightly in heavy aluminum foil, adding about 1/2 cup of the beef broth before sealing it up. The brisket's temp is at 153°F.



I'm still keeping an eye on this and it may still be awhile before the brisket hits the magic number.

More to come....

Kevin